Here are the 10 best Photography Apps for Android phones that I find best for retouching/capturing images.
As the number of Android devices are increasing, the number of pictures taken via Android platform is also increasing. With the tremendous increase in the number of Android users, many developers have created mind blowing Android apps to capture/retouch images. Out of many, I am going to post top 10 apps which you can consider downloading.
1: INSTAGRAM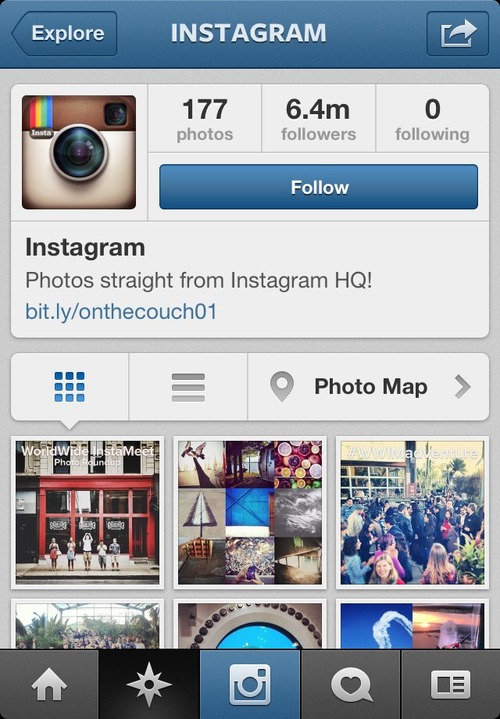 I guess all of you must know about or heard of Instagram. Probably it is the most downloaded app for camera. Apart from the camera, you can also post your images online and show that to your followers just like other social networking websites. This app comes with a function to take pictures and then some presets to give a nice looking effect to your images. This is what Instagram says
Over 150 million users love Instagram!
It's a simple way to capture and share the world's moments on your Android.Customize your photos and videos with one of several gorgeous and custom built filter effects. Transform everyday moments into works of art you'll want to share with friends and family.Share your photos and video in a simple photo stream with friends to see – and follow your friends' photos with the click of a single button. Every day you open up Instagram, you'll see new photos from your closest friends, and creative people from around the world.
2: PHOTOSHOP MOBILE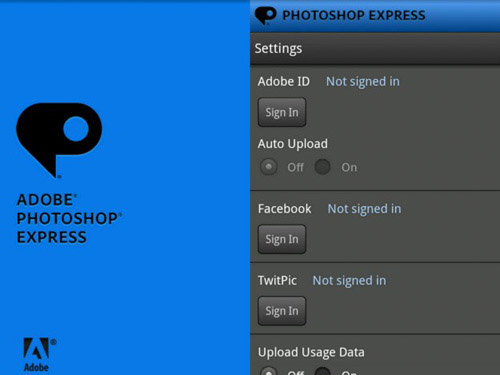 This app is developed by the Adobe, a company which is famous for the products like Photoshop, After Effects, Premiere Pro, Reader, Acrobat etc. This app is basically for the people who want to use a highly famous PC/Mac software "Photoshop" in their mobile. The app does not include all the feature that they provide for PC/Mac version, but from the point of view of the mobile, this app has pretty much covered all the things.
Here's what Adobe says about Photoshop Mobile:
Description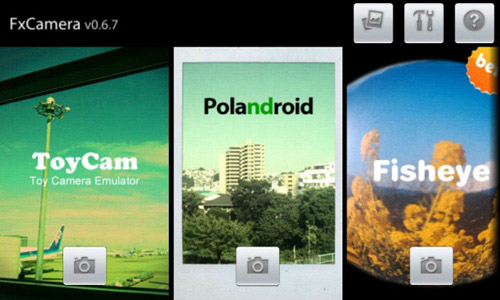 As the name says, this is a camera app which lets you capture images and then you will have 30 presets to give nice looking effects to your image.
Here's what the developer says:
FxCamera is a free, easy and creative camera app. With over 30 filters to choose from,
we will assure you that every photo will turn out to be your favorite.All of your photos taken can be shared amongst your friends and can you can interact
with people all over the world!
4: PICSAY
Probably this is one of the oldest android app which lets you edit/retouch your images. With this app you can do many things like editing, writing, text, superimposing vector images, etc. This app also comes with a pro version which lets you do even more things.
Here's what the developer says:
Spice up the pictures on your phone with this award winning photo editor!Supports high resolution editing up to 13MP for devices that can handle it.Sharpen, remove red eye, crop & straighten, distort, insert cutouts of other pictures, paint, make color splash out of black-and-white pictures, add text, word balloons, apply effects like Cross Process, Lomo, Vignette, faux HDR, Tilt-shift, Pencil Sketch, and much more.
5: SNAPSPEED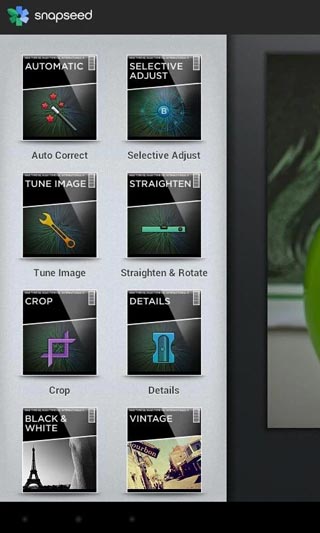 With an amazing user interface, this app lets you edit, transform, retouch images at your fingertips. This app is basically built to capture your everyday life.
Here's what the developer says:
Snapseed is the only photo app you'll want to use every day. It makes any photograph extraordinary with a fun, high-quality photo experience right at your fingertips.Anyone can enhance, transform, and share their photos with ease using incredibly advanced features from the leader in digital photography software. Built-in Google+ capabilities make it even more powerful to share your images with your friends and family.
6: PHOTO EDITOR BY AVIARY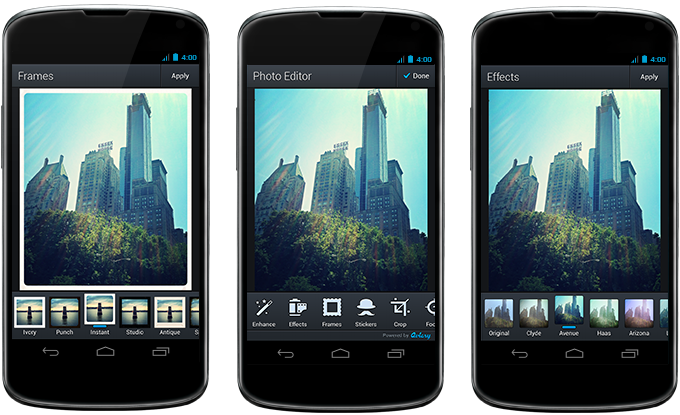 I remember, the world photo sharing website giant "Flickr" used Aviary's solutions to power their Android app. So there must be something great about this app. This app let's you capture everyday images very cleanely.
Here's what the developer says:
Aviary is a powerful photo editor which we created because we wanted a quick and easy way to edit our photos on the go with no fuss.
7: PIXLR EXPRESS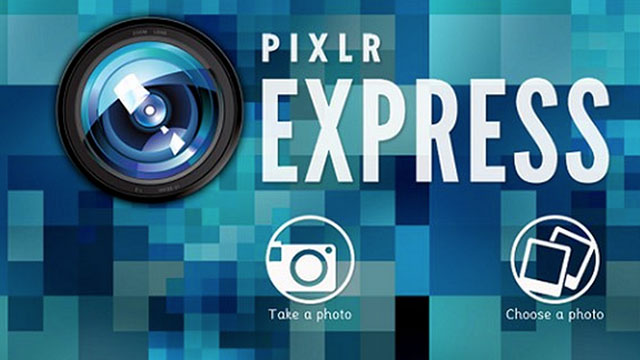 This app lets you edit photos, crop them, transform them, add border to them with single touch. This app comes with many feature that may amaze you. This app is provided by Autodesk Inc. which is one of the world's top developer and famous for the product "Autocad"
.Here's what the developer says:
Pixlr Express is a fun photo editor that lets you quickly crop, resize, and fix any picture, remove red-eye, and whiten teeth. Next, choose from the huge variety of effects, overlays, and borders to personalize any image. From the makers of Pixlr-o-matic, Pixlr Express will make you look like a pro, even if you've never edited a photo before.
8: CYMERA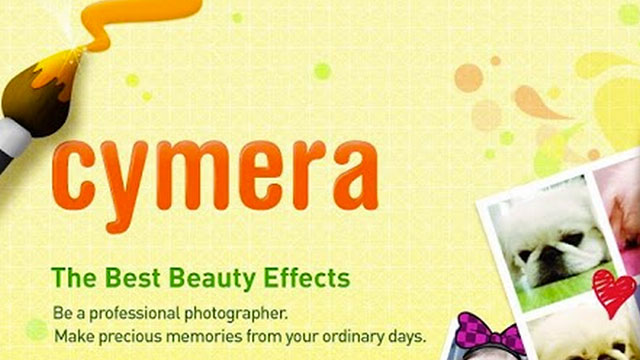 This app is basically designed for portrait images. After taking the pictures, you can also edit them. This app also comes with a lot number of lenses, shooting modes, presets etc.
Here's what the developer says:
Cymera is simply the best camera application for portraits. It has everything you need in a camera and photo editor to help you capture and create photos worth awards.
It offers a huge variety of lenses and shooting modes, hand-picked filters and the best beauty effects, run through our own face detection technology.
All of this plus more than 800 decoration options and the most amazing collage effects.
9: PICSART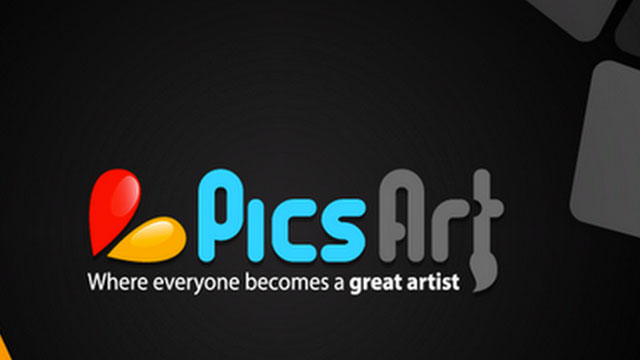 Just like Instagram, PicsArt also provides a solution to upload your images and then showing off to your followers. Apart from this, this app also comes with some presets to presets, camera etc.
Here's what the developer says:
Install PicsArt Photo Studio – where everyone becomes a great artist! It is the most popular free mobile photo editor with over 80,000,000 installs, one of the fastest growing photo artists' social networks and largest galleries of artwork.
10: PHOTO GRID – COLLAGE MAKER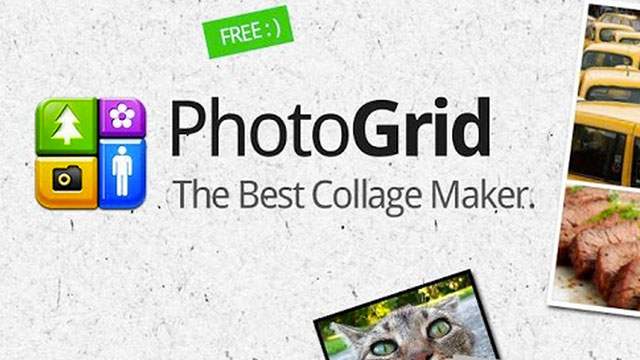 This app basically emphsizes on creating collage rather than providing presets etc. for your images.
Here's what the developer says:
Photo Grid is free and makes sharing pics and collages easy.
Instantly and easily create collages, wallpaper and photo albums.
Edit pictures in our photo lab and share on Instagram and other places with Photo Grid.
This collage maker is incredibly easy to use, try it and see for yourself.
100% free and fully loaded.