Do Aladdin and Cinderella exist in reality? Well in life there is no magic, but there comes a time where your patience gets rewarded. "Just when the caterpillar thought, its life was over, it began to fly." When the most ordinary people belonging to this world, but had no distinct identity. Lived an ordinary life. But then things started changing and they became the most influential, most revered. Was this a sheer luck? Was it magic? No, it was perseverance.It was their quality of not giving up, of not losing hope. There is a "time zone" which is allotted to all of us. Just because someone gets a job before you does not mean he is more capable.It is his time. Soon, it may be yours. May be you get a promotion before him. The people about whom I am talking about waited for their time zone and they succeeded.
Michael Jackson
Jackson acknowledged that his youth had been lonely and isolating. His deep dissatisfaction with his appearance, his nightmares and chronic sleep problems, his tendency to remain hyper-compliant, especially with his father, and to remain childlike throughout his adult life are consistent with the effects of the maltreatment he endured as a young child.But then he worked on his music and went on to become the "king of pop".
Steve Jobs
Abandoned by his biological parents and adopted by an "alcoholic and sometimes abusive" father. A school dropout.Goes towards creative and spiritual side and eats free meals at Hare Krishna Temple. Travels to Indian Ashrams and adopts Buddhism. Then it clicks, he gains interests towards assembling computers and then starts Apple Inc. Apple's board sided with the CEO, removing Jobs from his command of the group. They basically stripped Jobs of responsibilities. Then he did something incredible. He bought back Apple through NeXT Inc. and people who removed him were now, working under him.
Colonel Sanders
At the age of 5 his father died.At 16 he left school.At 17 he left 4 jobs.He got married but his wife left due to his poverty.He tried to kidnap his own daughter .He retired empty handed with very less money.And suddenly he realized something that he could do really well and that was to cook.He tried his secret recipe and went on to become a millionaire.
J.K. Rowling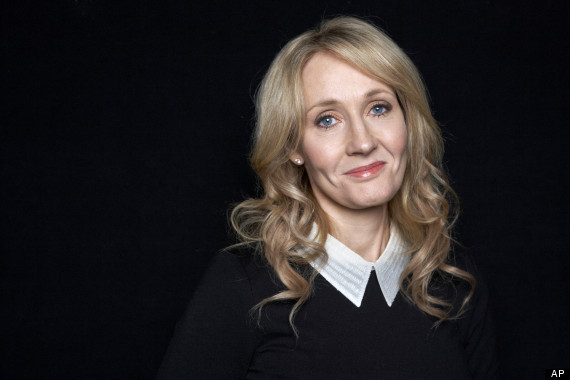 Her home life was complicated by her mother's illness and a strained relationship with her father. Her marriage had failed, and she was jobless with a dependent child. Rowling was diagnosed with clinical depression and contemplated suicide. She wrote in many cafe's and would search for places wherever she could get her daughter to fall asleep. The book was submitted to twelve publishing houses, all of which rejected her.Then time changed.Harry Potter series got published at Bloomsbury Publications and she went on to be the first billionaire writer.
Oprah Winfrey
Her mother, was a housemaid and her father was coal miner turned barber. She was so poor that Winfrey often wore dresses made of potato sacks, for which the local children made fun of her. At 13, after suffering years of abuse, Winfrey ran away from home. Her first job as a teenager was working at a local grocery store. At the age of 17, Winfrey won the Miss Black Tennessee beauty pageant. She also attracted the attention of the local black radio station, which hired her to do the news part-time. Then things changed and became the host of the most popular talk show on TV.
Related Article Top 10 Jobs To Get You Started With Your Career
Charlie Chaplin
His childhood in London was one of poverty and hardship. His father had left and his mother struggled financially, he was sent to a workhouse twice before the age of nine. No means of income, other than occasional nursing and dressmaking. When he was 14, his mother was committed to a mental asylum. Chaplin began performing at an early age, touring  and later working as a stage actor and comedian. At 19 he was signed to the prestigious Fred Karno company, which took him to America and he went on to become a comic actor, filmmaker, and composer.
Li Ka Shing
As told by Harvard,"From his humble beginnings in China as a teacher's son, a refugee, and later as a salesman, Li provides a lesson in integrity and adaptability. Through hard work, and a reputation for remaining true to his internal moral compass, he was able to build a business empire that includes: banking, construction, real estate, plastics, cellular phones, satellite television, cement production, retail outlets (pharmacies and supermarkets), hotels, domestic transportation (sky train), airports, electric power, steel production, ports, and shipping."
Dhirubhai Ambani
Raised in frugal living conditions, right from an early age, he was aware of the insufficiency that the family dealt with due to the meager income of his father and large expenses. He sold fried snacks and sold petrol during his struggle.Curious to learn the tricks of the trade, he soon started working simultaneously for a Gujarati trading firm. It was there that he learnt accounting, book keeping and preparing shipping papers and documents. He also acquired the skill of dealing with banks and insurance companies.He was not highly educated but that thirst to learn made him a billionaire, through Reliance Textiles.
Here is a cool infographic on how much money some of the successful entrepreneur started with?