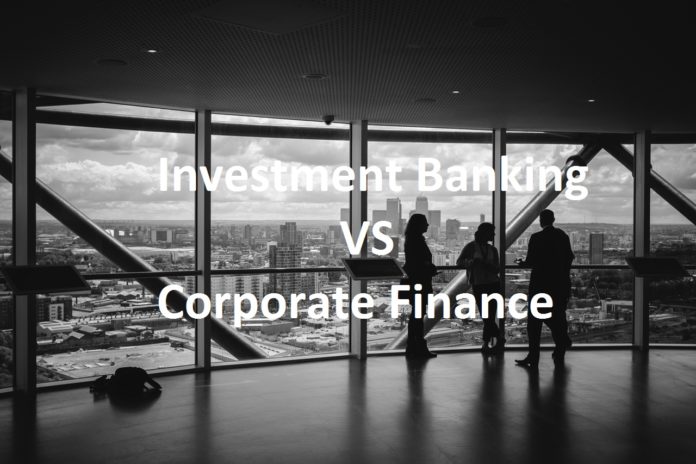 Have you been confused lately between Investment Banking (IB) and Corporate Finance? Do you know the differences between Investment Banking and Corporate Finance? No? Here is what you should know about the differences between Investment Banking and Corporate Finance.
1. Purpose
Whenever there is a situation that calls for the certain activities of a business in the financial division, this is where you will find corporate finance employees. Investments and capital request, whether raising it or covering is usually handled by corporate finance.
Investment banking, on the other hand, deals with the big deal financial activities of certain business transactions and deals, such as securities, business takeovers, or other related situations.
2. Pre-requisites
Those interested in a career in corporate finance will usually have to study economics, business and/or finance. Accounting is not essential but is highly sought after since there is a lot of accounting in the field.
Those interested in a career in investment banking will usually have to study finance, investments, and other similar areas that would give them an advantage over others.
3. Securing a Position
For those who get involved with corporate finance, there are a great myriad of different positions that may be available to them (at least when compared to investment banking). However, investment banking roles are difficult to find and secure, even more so with the amount of competition you face, making corporate finance the preferred option. Investment banking tends to provide the most opportunity for a better (nut not great) work/life balance over corporate finance.
Read More
10 Best Photography Apps For Android Phones
Best 7 Ways to Make Money Online Using Photography
4. Wages/Salary
While it isn't the exact same through the world, with some areas earning more or less, also depending on which company the employee works for, salaries for corporate finance division usually looks something like this:
Entry Level Analyst (Small firm) – $35 000 to $50 000
Entry Level Analyst (Large firm)-  $40 000 to $50 000
Financial Analyst (Experienced) $55 000 to 88 000
Tax Manager – $90 000 to $130 000
Assistant Treasurer – $85 000 to $115 000
CFO (Chief Financial Officer) -$250 000+
For investment banking, the salaries usually represent something like this:
Interns – $70 000 to $80 000
Analyst – $115 000 to $130 000 (Bonuses of $15 000 to $30 000)
MBA Graduates (Top Scores) – $120 000 to $200 000
Associates (3+ years) – $200 000+
It's obviously clear why investment banking is the more difficult to secure a position, out of the two options.
You should also read our other article in the "Dumb's Guide" Series-
Dumb's Guide to Understanding Stocks and Stock Market
Dumb's Guide to Investing Money in Stock Market
5. Pros and Cons
Corporate Finance Pros
Openings pay a higher average salary with a great amount of perks and growth potential.
Much more diverse careers opportunities, which may appeal to different types of employees.
Easier to land a position in corporate finance as opposed to securing positions in investment banking.
Work/Life balance is a little better than investment banking (but not by a lot).
Corporate Finance Cons
Master's Degree MAY be required (more often than not), along with any other certifications that could pose and advantage.
Doesn't pay nearly as much as investment banking does (still quite good though, considering).
Even though they do just as much work or have the same aptitudes, corporate finance employees may often go without much needed recognition.
Investment Banking Pros
The industry most financial career students tend to get the most out of.
High recognition for success and hefty sums, either in bonuses or salary, are granted.
The best opportunity, if one can secure a position, in the financial sector.
Constant opportunities for career advancement and promotion.
Perfect for those who relish competition and out manoeuvring rival companies.
Investment Banking Cons
Since the Global Financial Crisis of 2008, there is not much work available to investment bankers, and securing a position is extremely difficult. If the world were to face yet another GFC, investment banking would be a dry well for career choice.
It is only for the most confident, competitive, and high pressure handling employees. Many flake out within the first 2 years due to their inability to meet said demands.
Amazingly harsh and long working hours, anywhere from 75 to 100 hours per week. Health tends to fail earlier in life due to their overworked mentality and physiology.
Read more-
Dumb's Guide to Understand the Balance Sheet
6. Life/Work Ratios (which is your work life balance. Financial Ratios is what I am studying right now!)
As mentioned a few times earlier, the work/life ratio in corporate finance is a little better (if only a little) which can be spent with family and friends. Investment banking, on the other hand, usually have 75 to 100 hours a week working, leaving not much time left for other important things.
Corporate finance employees tend to have much more time to exercise, spend time for social responsibilities and generally have a much better work/life balance. On the flip side, investment bankers are notorious for being the ultimate workaholics!